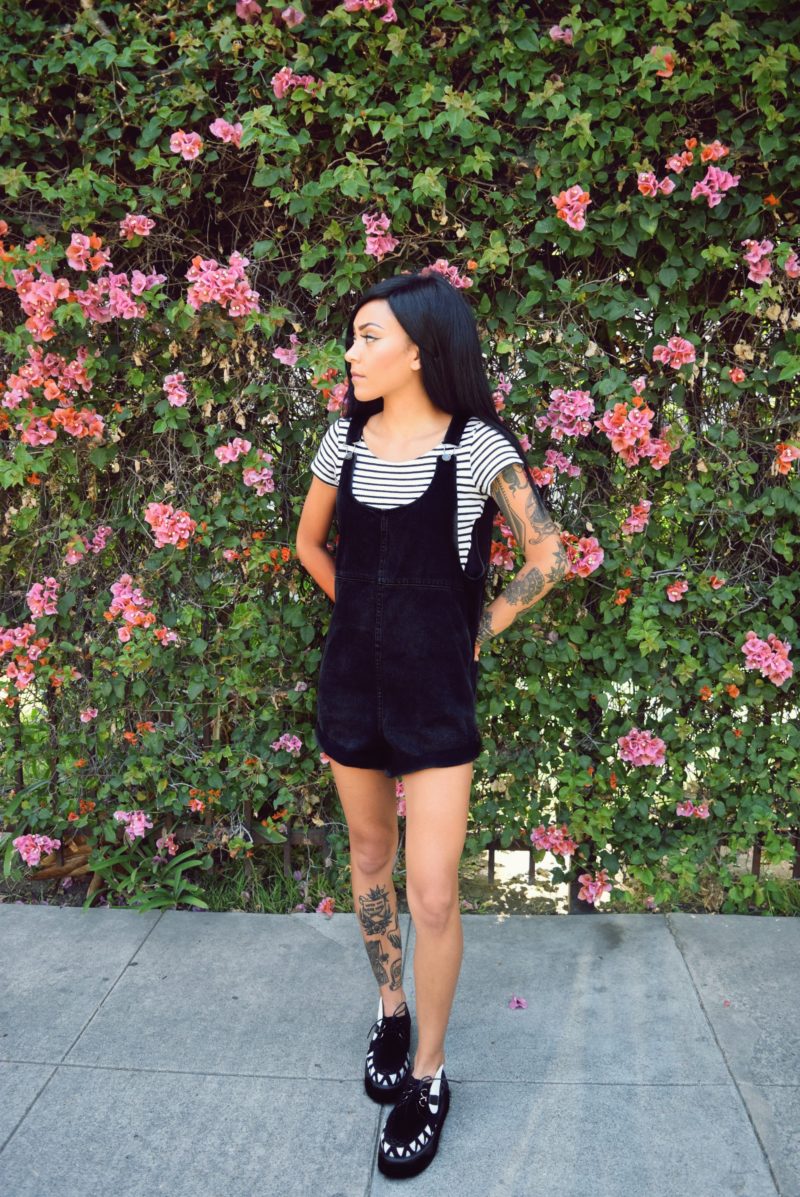 Crop Top (No Longer Available)-  Here is something similar —>  H&M Black/White Striped Short T-Shirt 
Overalls (No Longer Available)- Here is something similar —> Topshop Boyfriend Short Overalls
Shoes – (No Longer Available) – Here is something similar —>T.U.K. Unisex V7757 Creeper Oxford,Black
Luckily these cute flowers were raising my spirits while running errands today. It was hotter than hell in LA today so I wanted to keep my outfit of the day extremely..
simple and not very layered. Whenever I wear overalls depending on the length, I immediately feel like a little girl again! Overalls were one of my favorite things to wear as a youngin'. At the age of six, I began picking out clothes and styling myself due to my Dad always encouraging me to express myself and make my own decisions. There were at least three different pairs of overalls I owned by the age of seven. My favorite pair, I can remember them exactly, were a blue denim, had Ariel the Little Mermaid, and her pal Flounder right above the chest pocket. Going to daycare in those overalls always made me feel special or magical amongst the other children. I'm not sure why, but they were my absolute favorite and I won't ever forget them.
 Now that I am in my 20's, I can definitely say I never let go of my passion for overalls. They are easy to style with any crop top or t-shirt. As far as shoes go, overalls can be worn with sneakers, sandals, or even boots. The possibilities are endless when creating looks with overalls, don't be afraid to try something funky. I'm gonna make a blueberry smoothie and try to cool down with Salem (my pug dog). Lol!
Hope you all have a good day!
Sincerely,
Raven