Who's Uncle Acid?
If you're into rock music that falls under the umbrella of stoner, psychedelic, occult, or doom genres and haven't heard of Uncle Acid and The Deadbeats today is your lucky fuckin' day! As a lady that loves nostalgia this band is my absolute jam. I'm not going to type out a history lesson of the band and bore you like I normally would. You can google that. However, I will share why I admire Uncle Acid's music so much and why I decided to go to a concert like this by myself.
Well, first and foremost the band's sound is not being mass produced or created in 2019. The sound is something you'd hear in the late 60's or early 70's which automatically makes it fantastic. The band's been known to use vintage recording equipment and instruments hence the authenticity of their sound. You caught me, I wasn't born during those decades but apart of my soul resonates with anything related to art that came out during that era. So sue me for being a nostalgic asshat, I can't help myself sometimes.
Anyway, Uncle Acid has been around for 10 years and I discovered them about 2 years ago! What immediately attracted me was the darkness of lyricism and heaviness of sound combined. If you're a Black Sabbath fan, you know the sound I'm talking about! When discovering Uncle Acid, Vol 1 was the album that sold me. Blood Lust is considered their "breakthrough album" aka the one that got them more recognized. However, Vol 1 is still my favorite because of "Dead Eyes of London", "Crystal Spiders", and "Vampire Circus". It doesn't matter where you start if you're gonna listen because they're good all around if you like this genre of music! Just a heads up, I did two live recordings. One on my cell phone and one on an actual camera. This recording below is the cell phone, and not one of my best due to my inability to stop dancing. The second video in this blog post is much better but I think you'll get the idea of their sound by just listening to a a minute or two of either video!
Flying Solo at a Rock Concert
Whenever you hear a band like this for the first time on Spotify, Vinyl, CD, or whatever you know their live performance is gonna be freakin' amazing. There's no bells and whistles with them, it's just pure music. Whenever I found out they were going to be in Los Angeles in March, I bought my ticket in October of 2018. I bought my ticket 6 months in advanced! You could say, I'm pretty dedicated. Since Uncle Acid is from England, I had no idea how big the venue or crowd turn out was going to be but I knew I had to see them regardless. So.. why did I end up going alone?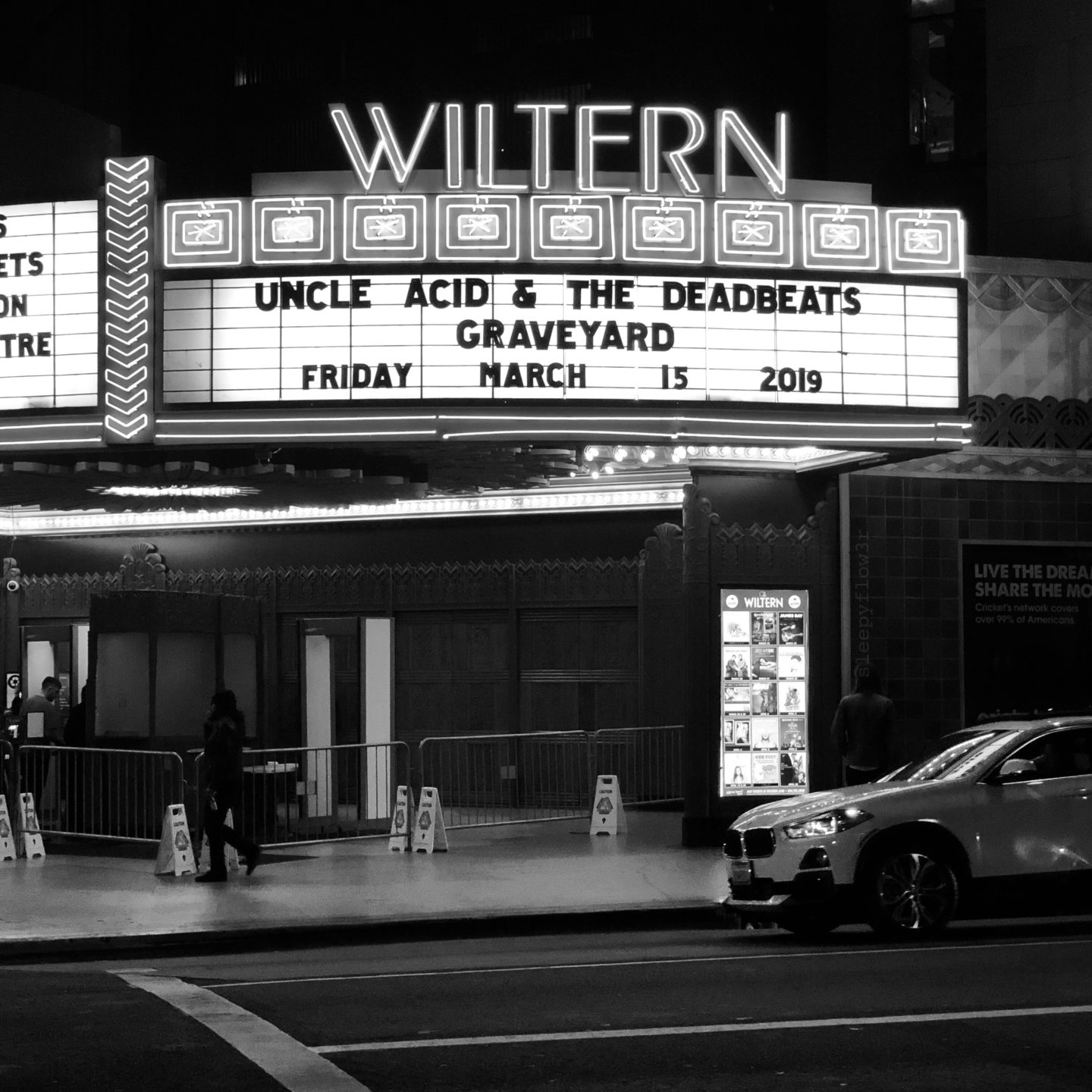 I debated on asking anyone because I knew most of my friends wouldn't want to waste the money on seeing a band they weren't really into. I also could've offered to pay for someone's ticket if I really felt like I wanted company. When it came down to the the day, I did invite a friend last minute but they couldn't make it! So, I took it as a natural sign to just go by myself. This wasn't my first show by myself but it was probably the biggest venue I went to alone.
In my humble opinion, the coolest thing about going to something like this by yourself is most of the people in attendance are into the same shit you are! It's super easy to make friends in between sets and if you're a girl the bathroom is a great place for socializing. Lol! I started going to shows alone whenever I was around the age of 21 and honestly at first it was really awkward.
There I was, standing alone and constantly looking at my cell phone to make sure I looked like I had something to do. As time progressed and I kept doing things alone, the less I felt like I needed to look busy. The more I found myself engaging with my environment, keeping my head up, and talking to more people. Practice makes perfect but also keep in mind the comfort zone can and will kill you in the long run. So, try not to be afraid to be different, weird, alone, or look a certain way. Do things for yourself and start living the life you desire. The time is now or never!
Overcoming the Fear
Whenever I go to shows or movies by myself, I do exactly as I would if I was going with someone. One of my favorite things to do before I take myself out on a date is self care. It may sound silly but it just makes my experience more fun. I highly recommend ya try it before you knock it! My self care routine can range from taking a long shower, moisturizing, face masks, taking myself to dinner, picking out an amazing outfit, and etc. Whatever makes you feel comfortable or helps you find comfort in going somewhere alone do it before the show! If you'd like to see the outfit I wore to Uncle Acid & read more about my self care routine before music shows alone there's a post all about here!
Now that I've made you read this far, I'm gonna let you go but I do hope you check out Uncle Acid & The Deadbeats. I found them on Spotify & they also have some songs floating around youtube! Be sure to let me know what you think of their music in the comments.
Until the Next Show,
Raven