Commentary
If you've browsed through any of my social media or just happened to connect my blog name to my extreme interest in death and not just sleepiness, congrats! Anything that's related to death, I'm particularly into. It's something that I don't know why it attracts me or interests me and I've always held onto things related to it tightly. However, if you find my interest perturbing or sort of sick this coffee table book is definitely not for you. There isn't necessarily a story for this book.. so I can't exactly spoil anything. However, I can share my infatuation I now have for "The Gashlycrumb Tinies" and Edward Gorey.
Being Attracted by a Book
While browsing around Amazon, I found this book cover calling my name. The image of a seemingly friendly grim reaper whose holding an umbrella over children seemed as if it would fit with my interests. I've never read anything by Edward Gorey, but even his last name intrigues me. The writer's last name is Gorey! He has GORE in his last name for Christ sakes! Okay, I had to look it up and yes that's his real last name! His last name is perfectly suited for this book and it was hard for me to believe. Upon verifying the authenticity  of his last name, I discovered that Gorey passed away at age 75 in early 2000. This deeply saddens me and I've only read one of his books.  If anything, my sadness should give you a hint at how much I adored The Gashlycrumb Tinies.
The Review..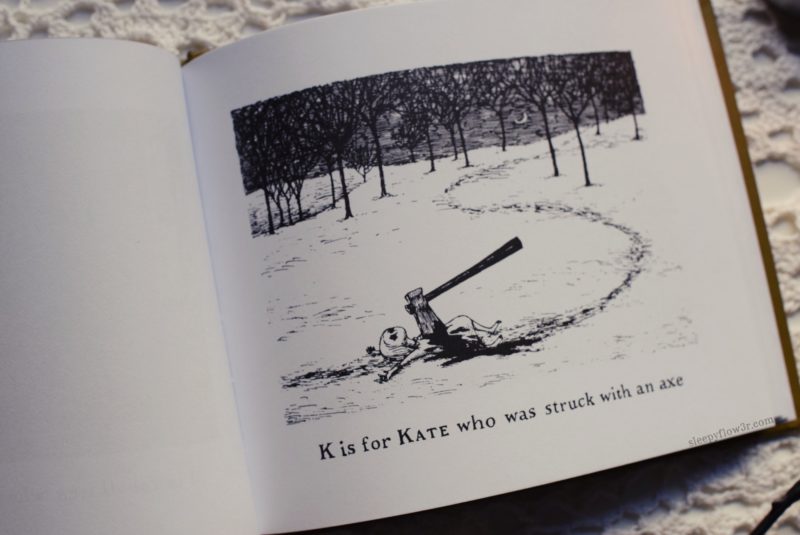 The Review
The Gashlycrumb Tinies consists of illustrations demonstrating how a different child has died all organized by name in alphabetical order. Weird, right? Most of the deaths are unexpected but it's shocking to observe cartoon like images of children dying. Books that consist of an enormous amount of photos are usually made for children unless created for a specific genre such as fashion, art, or photography. So, when I realized this book was mainly full of disturbing imagery, I knew it was destined for me! Don't let the artwork fool you. This book is for the preturbed. Edward Gorey brings uncommon mental images to life and with this illustrative approach that seems widely condemned. Maybe this is the reason why others and myself included enjoy his work so much. We just like weird shit that may often not be received very well by society.
Another unexpressed detail of The Gashlycrumb Tinies that I deeply admired was how he styled the children. Gorey styled them as if they were from another time period. The children wore dresses with exaggerated puff sleeves, skirts with consistent hemlines, and button down suits all while dying. I'm assuming Gorey dressed similarly during his childhood and used that as influence in his illustrations. I could be wrong, but I'm just taking a wild guess since he was born in 1925..
Anyway, besides how the children were dressed, the details of various inanimate objects indicate the story belonging to another time period. For instance, the use of wallpaper or certain pieces of furniture seems highly uncommon to have in modern times. I'm a sucker for all things vintage and it's clearly one of the reasons why I highly valued the artistry of this book! Gorey has written over 100 books and I do intend on reading more of them. His artwork is beautiful and morbid. If you're into anything dark or simply find joy in out of the ordinary things, I highly recommend you purchase The Gashlycrumb Tinies. This book is one of my new favorites and maybe a good scary story to read to children. Halloween is coming up.. might be good to scare them to death! Haha.. See what I did there?
Over & Out,
Raven