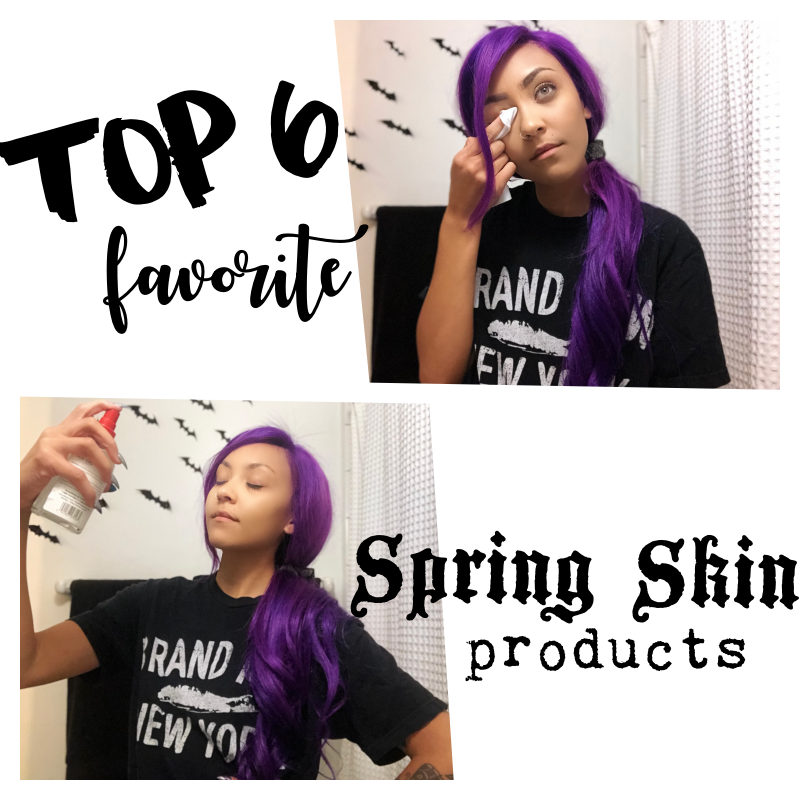 As we transcend into Spring 2018, its important to notice how weather changes help indicate how to better care for our skin. When the seasons change,it's time to change up the skin regimen!
Mastering the right routine requires patience and is a continuous process as we age, but I've learned over time what works best for my skin. From my personal trial and error I may be able to give some guidance and tips! There are several factors that play vital roles to maintaining healthy skin, but today I'll be focusing mainly on how to combat skin problems caused by our environment. For example, if you're staying hydrated throughout the day and your skin is still dry, its most likely caused by your environment.
Here are a few of my favorite drug store products I use throughout Spring!
1.Thayer's Witch Hazel – I highly recommend this product for all skin types! It's great for evening out the skin tone (hyper pigmentation), shrinking pores, and adding just enough moisture to the face. I typically use this as a nightly toner after I've cleansed my skin. I adore Witch Hazel because it's not as harsh as Apple Cider Vinegar and smells way better! Thayer's Witch Hazel also comes in different scents such as Rose Petal, Lavender, Peach, Lemon, Unscented, and more.
2.Biore Charcoal Exfoliating Acne Scrub – Due to my over moisturizing problem, I started to get forehead acne. My T-Zone is super acne prone and I find that this charcoal exfoliating scrub when used consistently always clears my breakouts! I don't use this every time I get a breakout, but when I feel my skin needs extra attention and love. This product has a tendency to dry your skin out, so be prepared to have a well balanced moisturizer after using it.
3. Shea Moisture Youth Infusing Eye Cream – Anyone else never sleep and it shows? I naturally have deep set eyes and my bags are designer baby! Lol. This is one of my favorite under eye creams because its moisturizing AND brightening. It's not very heavy when applied although it looks chunky and it smells heavenly!
4. CeraVe Moisturizing Cream – Spring just screams allergy season and for some reason my eczema flares up during this time. CeraVe is one of the only drug store lotions that can leave me moisturized all day. It does take awhile to rub in but it's totally worth the cost of this product. If you suffer from dry skin or eczema this is the product to try. The scent is not the best but at the end of the day, it's about how the product makes your skin look and feel. After using this over the past few years, it has become a staple throughout all seasons for me! Love love love this brand and cream.
5. Burts Bees Sugar Scrub – I'm no sugar scrub expert but when I tried this, I was unwilling to try any other type of sugar scrub. Before we continue, take note that this product is NOT like a facial exfoliator. This is a body exfoliator and it leaves the skin very silky after application. Feeling soft is a MUST for me! I hate feeling ashy or dry. During Spring, the ash starts to get real.
This product is great to use in the shower after you've washed or shaved. It'll leave your skin feeling silky smooth and overly moisturized. If you're someone who doesn't like the feeling of lotion, I don't recommend this product as it tends to be heavy. After using the scrub, its not necessary to lotion the skin after because of how moisturizing it is. However, I take extremely hot showers that dries my skin out even more, so I still apply lotion! I recommend playing around with the product and seeing what amount works best for you when using it.
6. Aloe Vera Gel – This product is a new one for me and I've actually been loving seeing the results. I've been using it every other day and apparently Aloe Vera is great for increasing collagen over a 90 day period. It's a natural anti- aging product and I'm in love! It has many other uses such as being a natural moisturizer, skin pigmentation healer, and more! I definitely suggest throwing this into your skin regimen from time to time.
xoxo,
Raven