"How can September's energy best influence you?"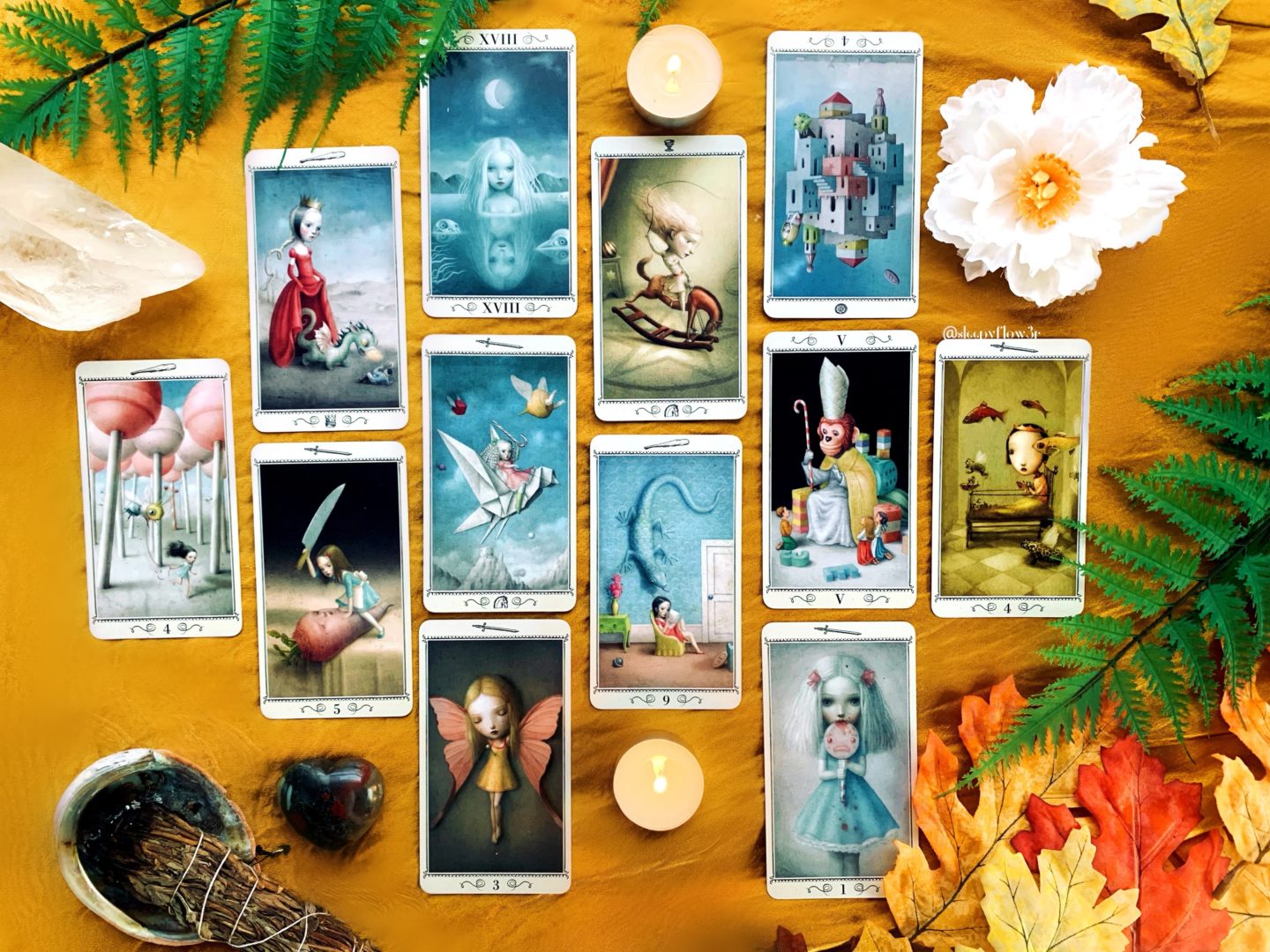 First off, what's a tarotscope? A tarotscope is a one card tarot reading that offers insight into a general theme or influence during a specific month in direct relationship to your zodiac sign. Essentially it's an astrological based tarot reading.
This type of reading is for a collective group of people who may or may not choose to resonate with the message associated to their zodiac sign. In the future, I'll also offer a more in depth tarotscope in my shop that's more personal, specific, and based off your date of birth rather than a general zodiac sign. For now, these tarotscopes are just a fun snack size way to get guidance through the tarot!
Falling into the month of September, the sun's beaming in the astrological sign of Virgo from August 23 to September 22. What this means is, there's a cyclical influence of energy on nature that happens each time the sun enters a new position in the sky. For majority of September, the sun's position is in Virgo and ends in the sign of Libra.
During what I like to call 'Virgo season', the collective energy in nature shifts from Leo's influence. Leo season presented us with creative abundance, self acceptance, and allowed our inner child to lead the way. Picking up where Leo left off, Virgo energy steps in to help allocate all the creative ideas harvested in August. Not only that, but the energy also moves us into deeper areas of our psyche to self enlightenment. September's most dominating collective energy influence is the push towards completing individual goals.
The following September 2020 tarotscopes have been interpreted to offer "how can September's energy best influence you?" according to your zodiac sign.
Editor's Note: This is my first tarotscope post! If you enjoyed it please leave a comment on any of my social media or blog. It'll encourage me to keep sharing!
Aries
(March 21 – April 19)
4 of Wands; Reversal
Dearest Aries, the month of September brings you a lesson in the material realm of your individual happiness. You may experience an imbalance directly related from your creative endeavors. This could manifest from not feeling fulfilled in your workplace, lack of supportive relationships, or bad health management. Don't worry though, September challenges you to get realigned and to commit to working on what personally makes you feel balanced or whole again. Creating a routine around your new self commitment can help bring rewards to your personal happiness and physical wellness. Practice makes perfect!
Taurus
(April 20 – May 20)
5 of Swords; Reversal
Good news Taurus, the month of September is filled with good karma for you! During this time, the general theme surrounding your life is influencing you to think in terms of compromises rather than your normal unshakable opinions. This new thought process allows you to approach your material goals with a heightened sense of certainty. In moments of critical decision making throughout the month, others may test your patience. However, if you decide to come to terms and reach a genuine level of mutual understanding with them, karma will gift you each time.
Gemini
(May 21 – June 20)
King of Wands; Reversal
Proceed September with caution Gemini. During this time your personal ambitions, passion projects, and social experiences will need deeper consideration. You may feel inclined to take control of the reins to reach your destination no matter the risk. However, this approach is unlike you and won't generate authentic success. Step back into your fair minded way of thinking and consider if your ego is what's driving you this month. If so, take a moment to slow down and analyze how you can accomplish your goals by being more innovative with selfless intentions. You can succeed this month by remaining gentle and staying true to your purpose.
Cancer
(June 21 – July 22)
The Moon; Reversal
Dearest Cancer, keep your head up this month! September's energy may distort your keen sense of emotional regulation. Virgo season influences us to become more critical in our thought processes and as a result you may experience mood swings, feelings of codependency, or numbness. However, if you can implement a behavioral practice that helps regulate your emotions around new or sensitive thoughts this month, you're going to feel more confident in areas of ambition, education, and social situations. Your lesson this September is to learn what works best for you to process sensitive ideas and emotions without becoming overwhelmed.
Leo
(July 23 – August 22)
Knight of Swords
Listen to your heart, Leo. You're being called to pursue new ideas within the emotional realm. September's energy encourages you to take leaps of faith in whatever conquest you decide to embark on. During this time, you feel more confident in your willpower which allows you to emotionally connect with others from a new perspective. By taking on this new aspect, it can provide a better understanding of emotional bonds within areas of love, social relationships, and/or family. September compels you to initiate action in order to create stronger connections.
Virgo
(August 23 – September 22)
3 of Swords; Reversal
The sun is finally shining its light on you dear Virgo. This month makes room for healing from a mentally and emotionally exhausting experience. Although you may still feel wounded, September brings reconciliation to your overall well-being. During this time, you feel more optimistic and less critical about your pursuits in matters of the material realm. The general theme around September for you is learning to let go of negative or harmful ideas that prevent you from improving your physical forms of value.
Libra
(September 23 – October 22)
Knight of Cups; Reversal
This month can reveal many cosmic truths for you Libra. September energy confronts your overactive imagination and as a result you may be feeling imposter syndrome. Try not to feel insecure about this experience because the realization will allow you to become more authentic in the pursuit of your goals. Virgo season nudges you to work consistently in which you'll learn that being reliable is the key to bringing your visions to life. Show up for the work this month and allow yourself to feel validated.
Scorpio
(October 23 – November 21)
4 of Pentacles; Reversal
As much as you rely on using your intuition in matters of social ambitions and personal projects Scorpio, this month challenges you to apply more logic in your decision making. When it comes to generating success, you may need to take a step back in order to move forward. Experiencing this Virgo energy may heavily influence you to indulge or become wasteful. With that in mind, if you attempt to become more grounded in ways such as saving money or moving slower than usual, September can deliver an abundance of physical rewards.
Sagittarius
(November 22 – December 21)
9 of Wands
Stand your ground this month Sagittarius. September energy influences you to become more determined in protecting your creative approaches. Others may not agree or be able to understand how you're actively pursuing goals. However, the opposition you sense from others can bring a new form of strength and resilience to your journey. During this time you may feel a heightened sense of courage that can help advance passion projects and enhance key lessons around socially driven experiences. The general theme surrounding this month for you is, if there's a will there's a way.
Capricorn
(December 22 – January 19)
Ace of Swords
Time to put your thinking cap on, dear Capricorn. September's energy brings an abundance of new ideas and intriguing conquests. Around this time of year, you have a strong mental assertiveness that can stimulate progress in areas such as furthering your education, moving forward with a passion project, or improving your role in society. The general influence this month compels you to try new ways of thinking and as a result can help you feel more confident when reaching for your goals. When you believe in yourself, there's always a possibility for achievement.
Aquarius
(January 20 – February 18)
4 of Swords
It's time to take a mental break, Aquarius. September's energy invites you to emotionally connect deeper in personal relationships, feelings, or desires by allowing yourself to be more receptive. The idea of taking a break or allowing emotions in may seem daunting at first. However, by tapping into your emotional realm this month you'll discover this new approach can be an effective way to rest and recharge. The collective energy surrounding this month influences you to listen to your emotional needs in order to better accomplish your goals in the long run.
Pisces
(February 19 – March 20)
The Hierophant; Reversal
Don't 'just keep swimming', Pisces. This month calls you to focus on becoming more grounded but the energy being presented may easily steer you off course in matters of the emotional realm. You may feel a bit stagnant or narrow minded during September due to the boundaries it collectively guides us with. Although you may not feel it right away, the disciplinary influence can help you feel more stable in intimate relationships and personal desires in the future. The best way to work with this energy is to create an emotional protocol system that can keep you on course this month.