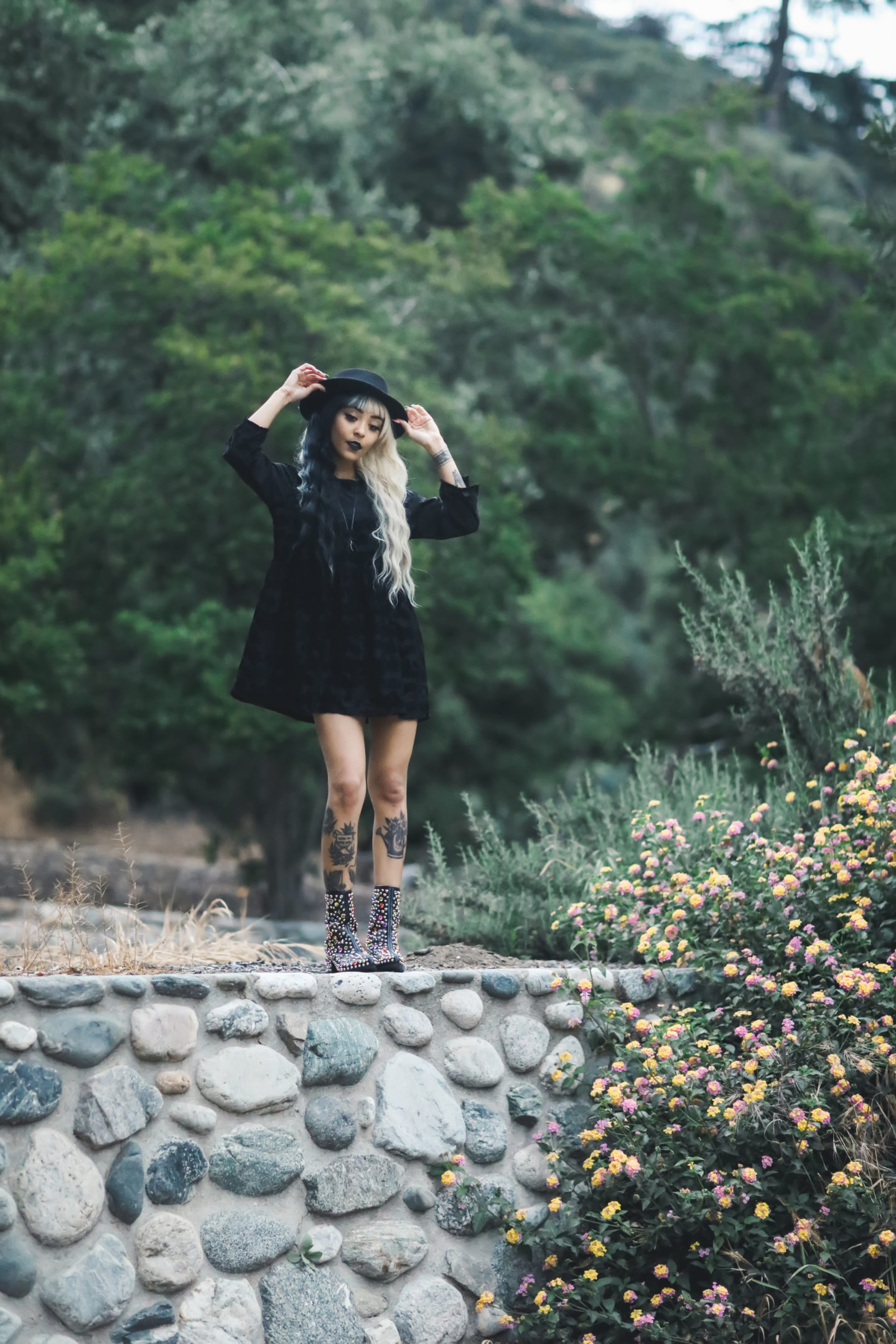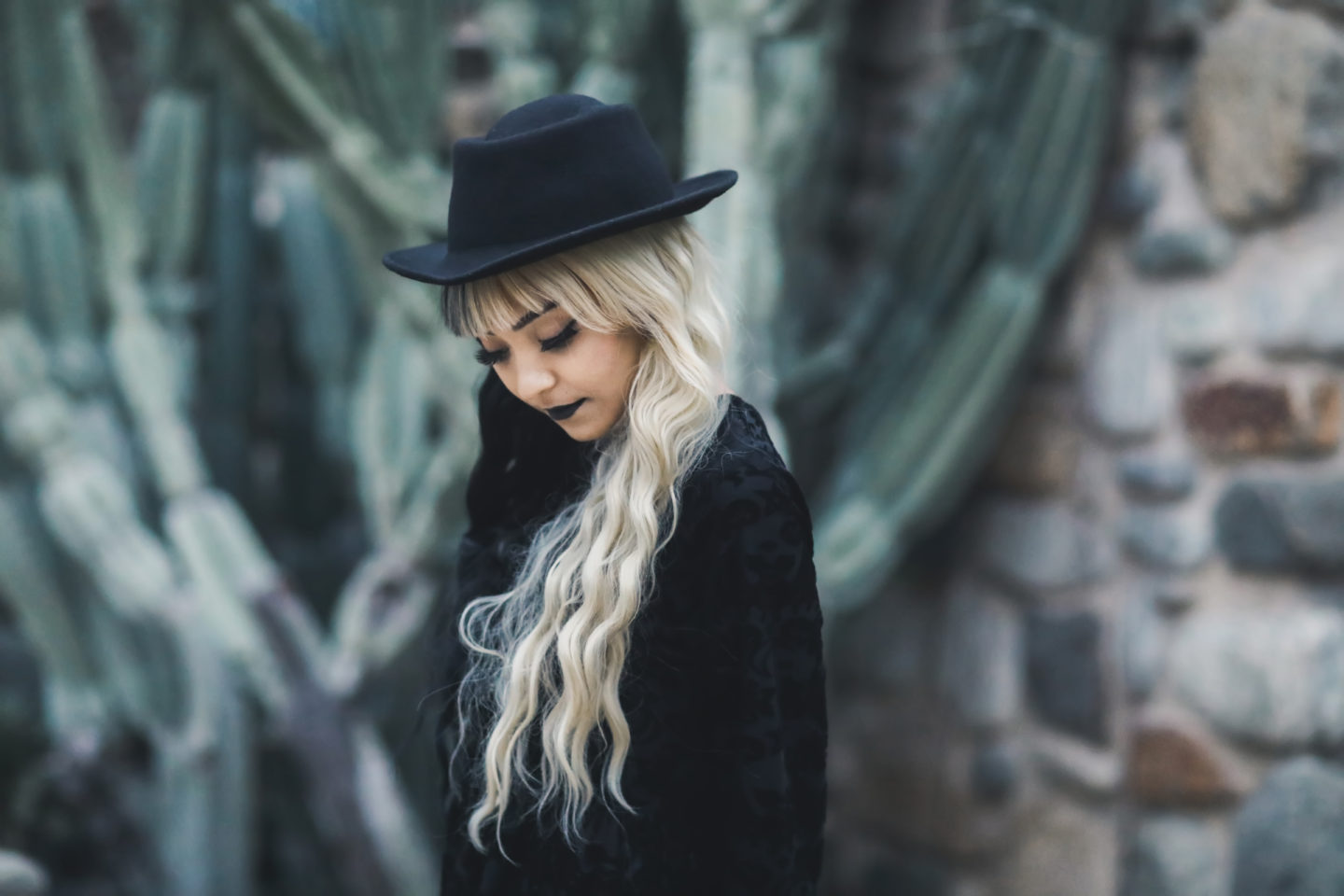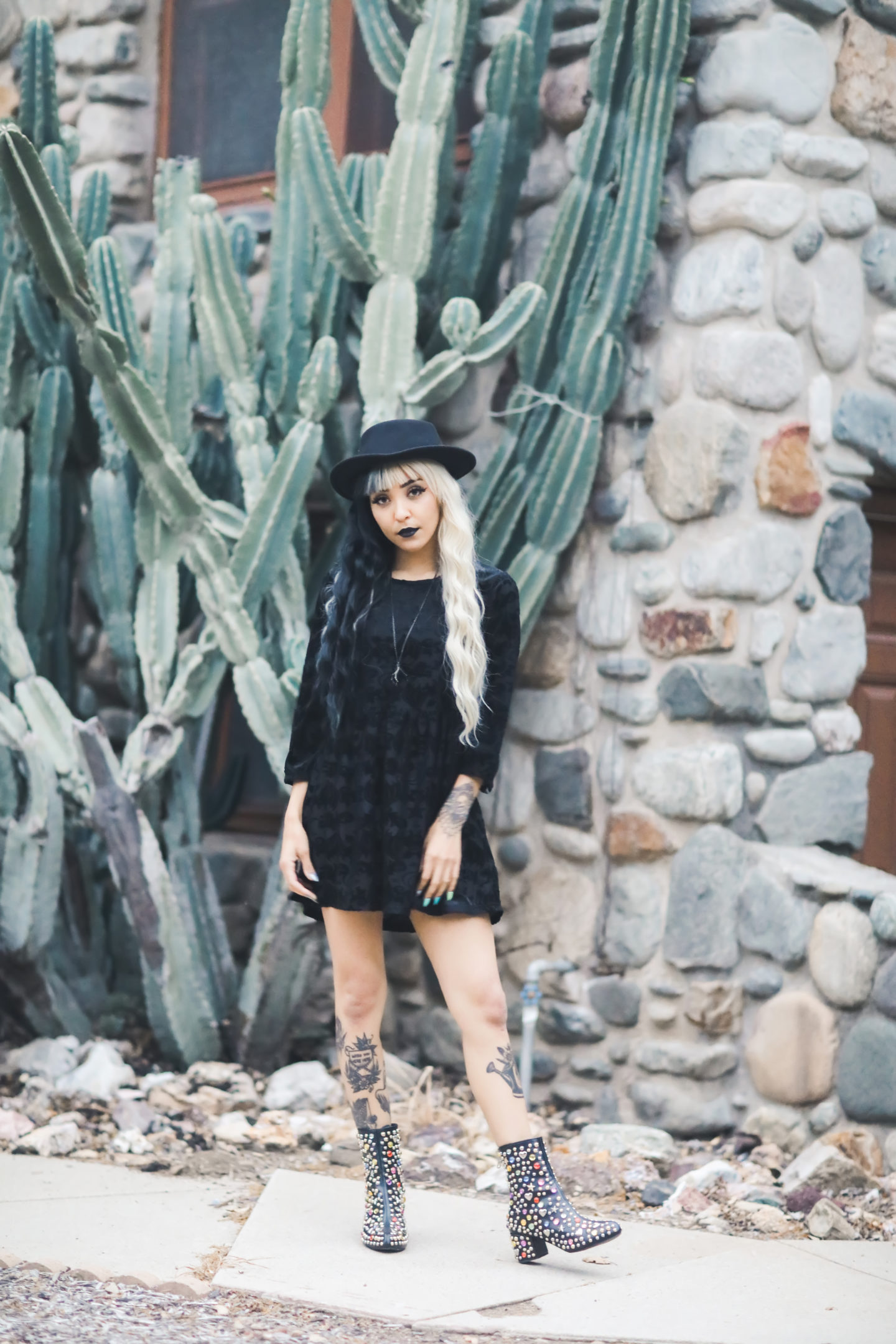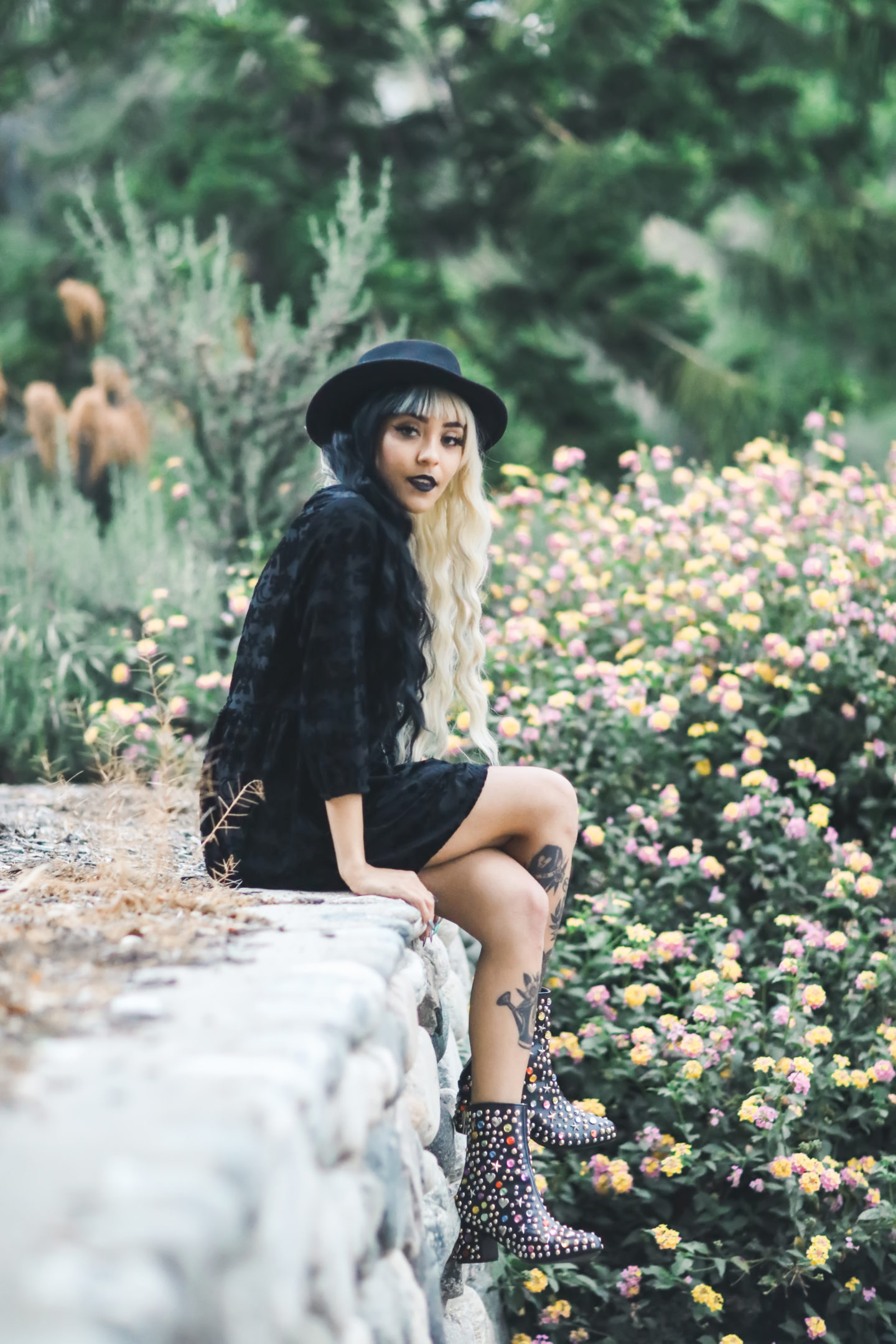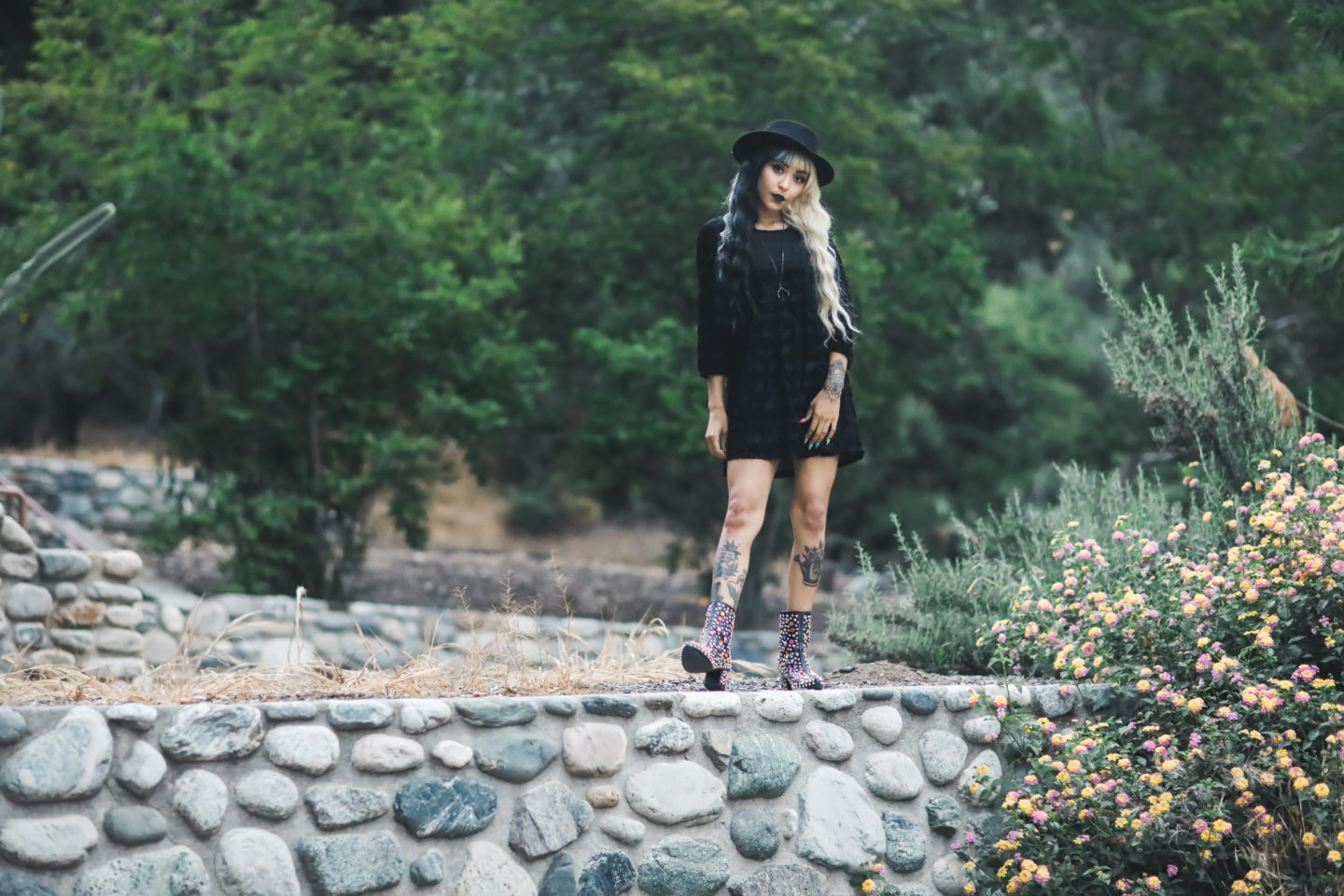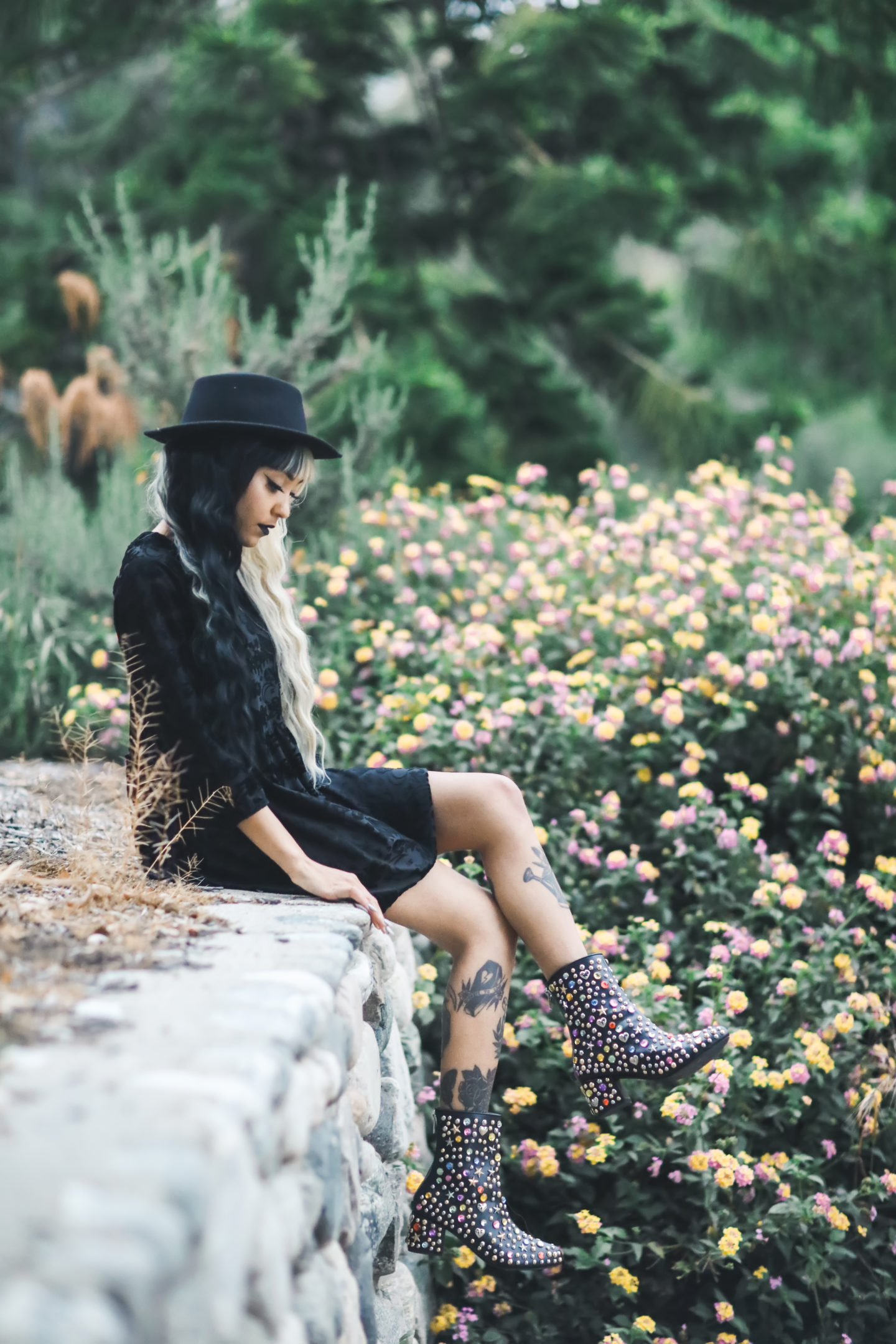 All photography by: @ChristinaGrim
Dress: Discontinued by Ironfist
Shoes: Darkstar Gem Boots
Hat: Don't Remember – here's a similar one –> Liv Felt Boater Hat
Necklace: Raven Claw Necklace
Are You Famous?
Who's considered a rockstar these days? We have new faces of fame and a plethora of new types of music but I can't pinpoint a "rockstar". We don't view musicians the same as we once did in the 70's or 80's or maybe that's just because I'm getting old. Haha! Those decades were some of the most influential periods of our century when it comes to culture! Speaking of culture, livin' in California allows me to be submersed within several. Many people are well known stars here and regular non famous people live amongst them. It's quite the norm to see a celebrity every now and then.
One of the most interesting quirks about living in California is many people like to express themselves through style here. Almost anyone walking down Melrose or someone grabbing a cup of coffee in Beverly Hills could be famous. You'd never know it though unless they were like Miley Cyrus famous. It's hard to tell whom is and isn't famous because of the way people dress in southern California. Even the beach bums can look expensive lounging around in Venice in their trendy Free People or latest thrift finds.
It's easy to be influenced by the style of the stars when you live amongst them or are trying to become one. Having a style or personified look in any region of the world is what sets you apart.
Dressing Like A Rockstar
Personally, I've always had an interest in self expression and changing up my look! I can definitely understand why others can't be bothered or find it of little importance though. Fashion and styling isn't for everyone. It just makes me feel so damn good to wear something that allows me to express myself outwardly. However I dress is an extension of my internal mood every single day. I don't have to communicate how I feel because you can see it through my style of clothing. This outfit is a great example of influence and mood expression. Before I go into telling you about my inspiration for this outfit, take one good guess where it came from. Any guesses?
When I finished changing for this look and came around the corner to show the photographer Christina, she immediately said "This is sooo Stevie Nicks vibes!". She knew without me even saying that's who the look was inspired by. Also keep in mind, this was the first time Christina and I had ever met or even worked together! She's so precious, talented, and artistic. I'm so lucky to have found her through instagram and gotten the opportunity to work with her. Christina understood the vibe of this look and helped make me feel as magical as a modern Stevie Nicks would while shooting.
This look is one that anyone can easily put together and instantly make themselves feel like a rockstar. All you need is a fancy pair of boots, a little black dress, and a hat! It's witchy, magical, and celebrity like. I'm off to go have my own dance party to a Stevie Nicks record.
Until Next Time,
Raven