Top- BlackCraft Cult 'Never Trust The Living ' Shirt
Skirt- Urban Outfitters
Bag- Eden Sky
Choker – Amazon Velvet Choker
Fish Nets – Amazon Fishnet Stockings
Shoes – T.U.K Women's Creepers
It's the end of summer and the evening weather in Los Angeles is finally becoming cooler! This is music to my ears considering it means I can wear as much black as I want without dying of heat stroke. Fall is my absolute favorite season for fashion and honestly in general because of those autumn feels…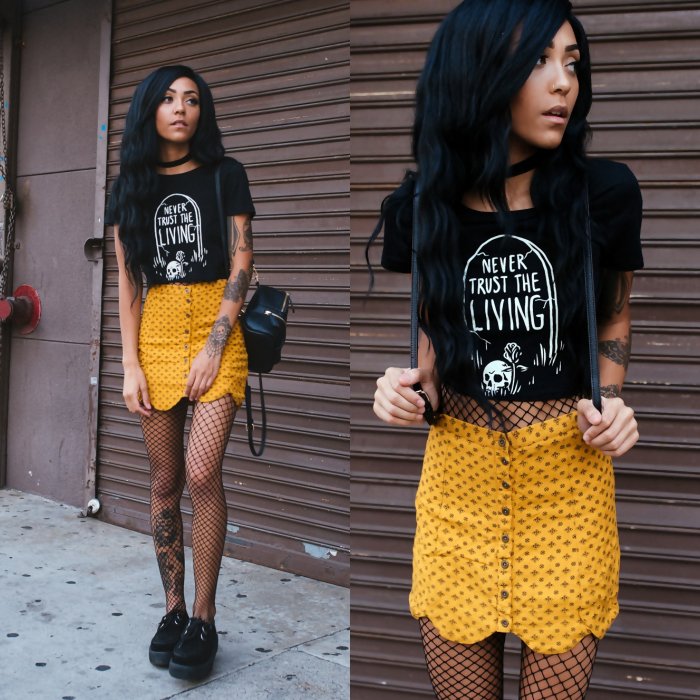 Lately, I've been discovering that I adore pairing feminine skirts with edgy graphic tees. The most exciting part of this look for me, personally, is the graphic crop top from BlackCraft Cult. If you couldn't guess by looking at me.. I have quite the infatuation with death related things and I thought this shirt was absolutely adorable! This top was my first purchase from them and I bought it during their warehouse sale for 40% off. Score! It was the first time BlackCraft Cult had opened their showroom to the public to shop. I felt extremely lucky to be one of the first customers to see it in person because they have only had an online store presence. The showroom had a victorian goth vibe to it and it felt like I was at home while shopping.
Anyway, I've personally never been a fan of skirts until recently, so I'm excited to keep adding more pieces like this Urban Outfitters mustard yellow skirt to my wardrobe.  A few years ago, I probably never would have mixed this graphic tee with a skirt but, here I am!  To add more texture and a little bit of edge to the look, I paired the skirt with a set of Fishnets
and black T.U.K Women's Creepers. This is a perfect pre-fall outfit and you all should definitely prepare your eyeballs to see how I integrate more feminine pieces into my style.
Hope you all had a great weekend!
Sincerely,
Raven