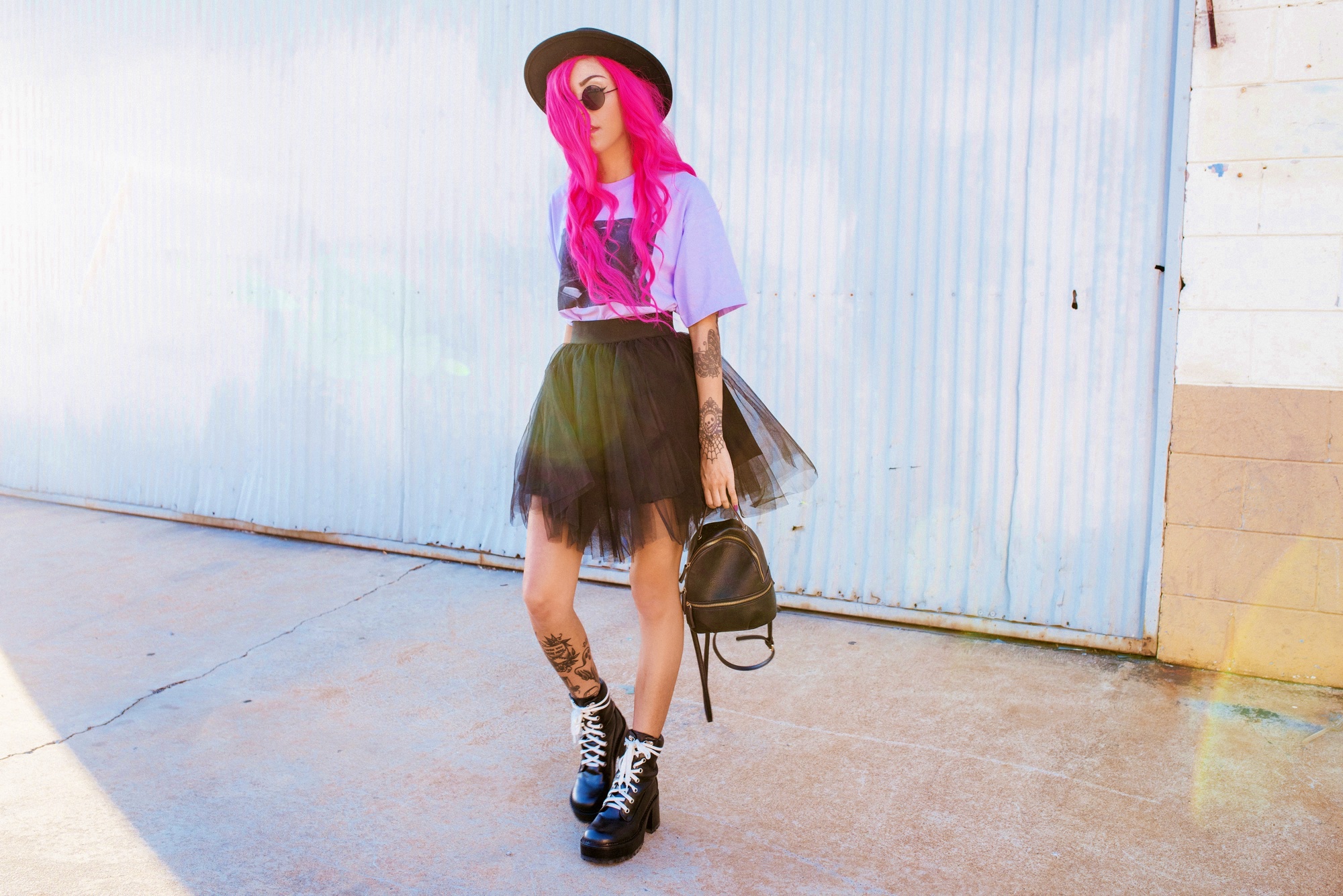 Top – Dumbgood Beetlejuice Lydia Tee
Skirt- Ink Champagne Mami Tutu Skirt
Shoes- Current Mood Take A Hike Boots
Hat – I don't remember!
Sunnies – MLC Eyewear
Bag — Black BackPack
Why I Stopped Modeling
Hello strangers, lurkers, and friends. It's been awhile since I've made any photos with another photographer or did anything in regards to style. I don't think anyones wondering why not but since we're here.. I'll tell ya! I stopped feeling comfortable in front of a camera. It felt as if I was forcing myself to be creative and if it feels pressured, it's not genuine. If I create something, I want it be 100% with heart. So.. here we are. Creativity and courage snuck back up! Luckily for me, I got to work with one of the best people I've had the pleasure of meeting in Los Angeles. Ron's one of my favorite photographers and anyone who gets to be his friend or work with him is extremely lucky.
As summer progresses, the pants cease to exist in my wardrobe. This outfit of the day is an ode to many things I love. From tulle ballerina 80's skirts, to Lydia Deetz, and chunky platform boots I'd say the outfit has a hint of nostalgia with a dark twist. Having hot pink hair has made me feel extremely bubbly and vibrant which is odd, cause I'm definitely more of a"Does it come in black?" kinda gal. However, I think everyone has light and dark side to their personality and this look kind of reminds me of that!
You'll Never Be Ready
Time's goin by extremely fast this year and I feel as if I've been learning more about acceptance. What I mean by learning acceptance is you'll never be ready for anything in life. The older you get, the more it's about learning to work with what you have. It's about learning to always try your best. If you did your best, that's good enough! You have to start believing that. Acceptance of what is, will allow you to grow in ways unimaginable. You just have to try. Accepting that you're at least trying is the only thing that matters. It's being hopeful. Be proud of your efforts. A little bit goes a long way and is always better than nothing. Just keep making the effort. Keep going. You'll get somewhere.
xoxo,
Raven
SaveSave
SaveSave
SaveSave
SaveSave
SaveSave
SaveSave
SaveSave
SaveSave
SaveSave
SaveSave
SaveSave