Hi.
As my blog beings to grow, the more comfortable I become with opening up to my readers personally. There's always more to the internet persona people portray themselves as. Rarely do we share the genuine side of ourselves here. There's nothing wrong with creating art or a persona online and it being an extension of yourself. I actually love that we can plug into this virtual world and be whoever we want for a few hours. However, outside of the internet there are real life problems we face daily but don't typically discuss with others in this virtual reality. Should we start discussing more? Should we be more transparent?
With this post, I'm going to be very transparent and honest because I feel my experience may help others. I don't like to talk about personal issues on the internet for various reasons however this one's important. One reason it's challenging for me to share personal problems on the web is because of my fear of judgement. No one likes to be judged but I can't let that fear rule me anymore. Other people's judgements have nothing to do with me.
While going through what I call an 'episode' of dealing with my PMDD, I picked up a book called "The Four Agreements" laying around my apartment during a really ugly cry. The book helped me stopped crying but it also helped me gain a new perspective. With this new insight and absence of fear, I'd like to share some of my experiences with PMDD, bring awareness to the disorder, and also what I do to cope with it.
So here goes nothin', my name's Raven and I suffer from PMDD..
What is PMDD?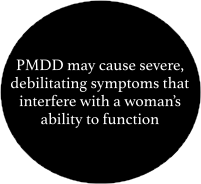 Premenstrual Dysphoric Disorder (PMDD) – "..can be considered a severe form of premenstrual syndrome (PMS). Both PMS and PMDD are characterized by unpleasant physical and psychological symptoms that occur most commonly in between 12-14 days preceding the menstrual period. Physical symptoms such as bloating, breast tenderness, headaches, joint pain, food cravings, mood swings or frequent crying, panic attacks, fatigue, mood changes, irritability, and trouble focusing are among the most common symptoms. Other symptoms like anxiety and trouble sleeping have been reported. PMDD may cause severe, debilitating symptoms that interfere with a woman's ability to function."
PMS vs. PMDD?
Periods suck but at the end of the day I personally feel magical because I have the ability to give life. From the beginning of my diagnosis as a teenager, I was always aware that the days before getting my period something was incredibly wrong with my mind and body. While growing and learning about my body, I had two older sisters around that never complained about getting their periods or dealing with PMS. One sister had a heating pad and the other was extremely athletic in the sense she'd always combat her issues in some form of exercise. So of course, I couldn't understand why this time of the month effected me so badly and why their remedies never helped.
There's not too much information on what causes PMDD but "studies have shown a connection between PMDD and low levels of serotonin, a chemical in your brain that helps transmit nerve signals. Certain brain cells that use serotonin also control mood, attention, sleep, and pain. Hormonal changes may cause a decrease in serotonin, leading to PMDD symptoms". Thanks science for not knowing why I feel psychotic before my period!! It's all good though, I'm a monthly PMDD survivor at this point. The older I get the more I'm able to understand my symptoms and how to combat them naturally. The symptoms change each month my body is preparing for my period. It's not always a crying dramatic fit, burst of anger, physical pain, or whatever extreme symptom. Sometimes my symptoms can be dormant or they can be heavily present I believe depending on my current self care routine including diet, exercise, and etc.

I began to question my sanity in the days leading up to my period as a teenager. I didn't know if I should seek mental help or if I needed to go to a physical doctor. It seemed as if no one understood why I was feeling and being the way that I was. People around me kept saying, "someone must be on their period" which made me feel even more insane because I wasn't. It's okay to be sensitive while on your period whether your dealing with regular PMS or PMDD, your feelings are valid! It's never an excuse to treat others poorly during PMS or PMDD but we can share with others more often to help them understand. PMDD has no rule book but according to what causes it, its all about our hormones messing up nerve signals to the brain. Those messed up nerve signals are what makes this a serious disorder. Similar to anxiety or allergen disorders, women with PMDD have no control over their brain disfunction.
Understanding the Disorder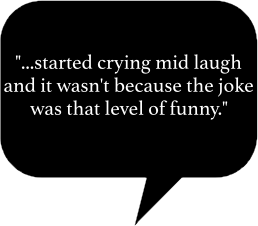 This lack of control can lead to disaster as I have experienced many times with PMDD. I could never understand my actions and thoughts which drove me crazy in the beginning. There are times where I feel heightened depression, lack of interest, or rage for absolutely no reason. To some that may sound like normal PMS, but to a woman with PMDD, the feelings are much more severe. For example, the other day I was laughing with one of my friends and my body's reaction was so weird. I started crying mid laugh and it wasn't because the joke was that level of funny.. My body just sent a signal to my brain that made me cry during a happy moment. I was aware that nothing was wrong but for some unexplained reason I was also crying and now sad. Strange, right? If possible, try to imagine not being able to control something like that while being at your job, school, or with someone you love. It's not always easy to explain that your body is doing things you have no control over in that moment.
It's also not always a mood shift or psychological issue that can disrupt daily life for a woman with PMDD. It can also be severe physical pain each month too. I have an issue with bloating before and during the bloody war. My stomach gets so large that it physically hurts and I'm unable to move. Women with PMS also experience bloating but I personally feel as if my stomach is going to explode based off level of pain each time. I could eat 2 cups of organic broccoli unseasoned and my stomach would still look and feel as if I was 9 months pregnant. Broccoli is healthy and good for you and typically doesn't cause bloating. So.. once again another extreme symptom I have to combat all because my hormones and brain are not connecting properly. Realizing there's not much a girl can do about mother nature, I sought out different treatments.
Treatments for PMDD
There are different ways to treat PMDD such as antidepressants, hormone therapy (birth control), over the counter pain relievers such as Ibuprofen,vitamin supplements and many other man made fixes. However, I'm partial to modern medicine. Medicine has always freaked me out and I'll use it when I feel I need to. However, I try to cope with my PMDD in the most natural ways possible. Occasionally, I'll take a pain reliever such as Midol for physical pain but most of the time my focus is on how I can deal with it naturally. If you suffer from PMDD or think you may have it, I advise consulting with a licensed health professional before seeking treatments. Everyone's severity with PMDD is different and certain forms of treatment may work better for you.
Tips & Tricks for PMDD Symptoms
Every month my symptoms change and I have to combat each one as they come on during the luteal phase of my period. Of course, these tips can also be used to treat PMS but they're my go to when I'm having a PMDD 'episode'. I've made a little chart to show how I combat each symptom.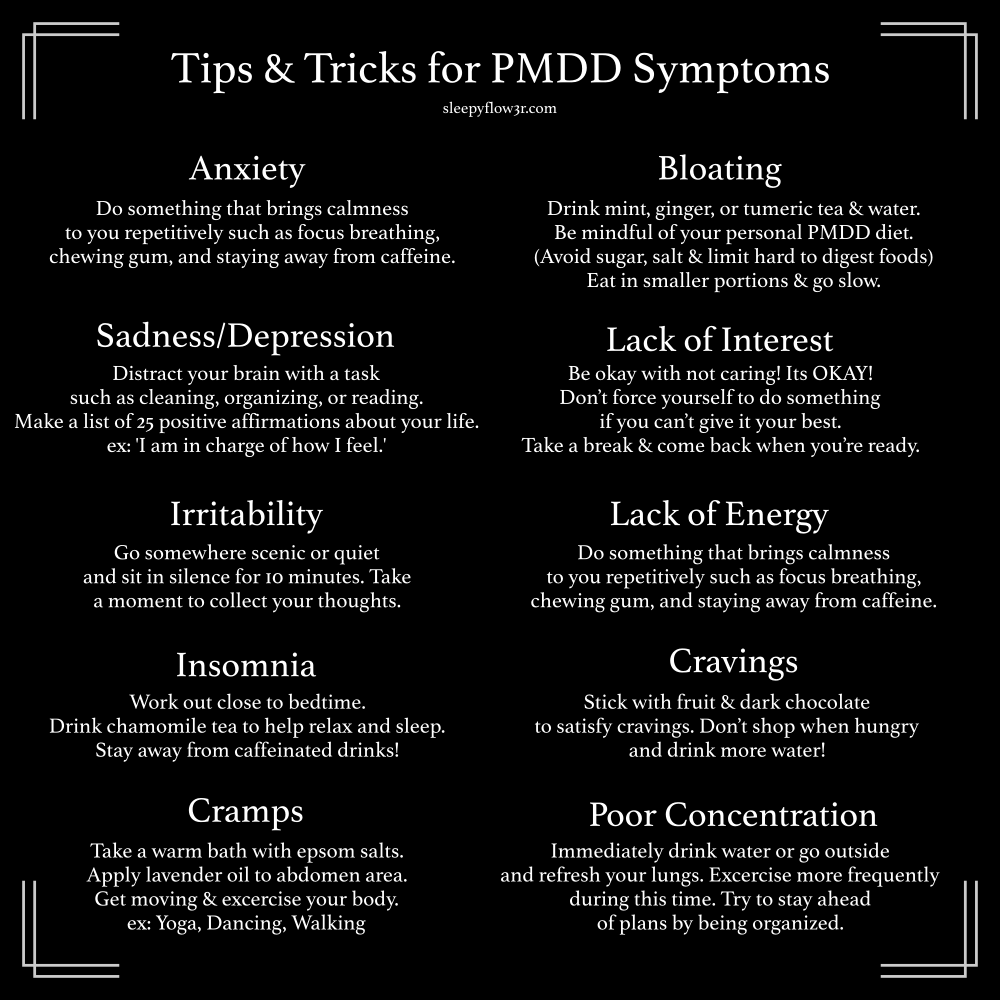 PMDD Pep Talk
We will not let this disorder ruin our lives! We know our bodies better than anyone and know that within a few days everything will return to harmony again. Our bodies may be at war with our brains but that doesn't mean we can't win the battle. We're strong women and can combat any symptoms we're having as long as we practice them. We're going to get past the pain or drama each month, learn more about ourselves, and become stronger each time. Fuck PMDD, we got this babes!
Until Next Time,
Raven
Disclaimer: I'm not a licensed doctor or health professional. This post is strictly based off my own opinion and experience with intent to help readers make better health decisions after consulting with their health care provider.
Sources
https://www.medicinenet.com/premenstrual_dysphoric_disorder_pmdd/article.htm#what_are_the_symptoms_of_pmdd
https://www.webmd.com/women/pms/premenstrual-dysphoric-disorder#1-2
SaveSave
SaveSave
SaveSave
SaveSave
SaveSave
SaveSave
SaveSave
SaveSave
SaveSave
SaveSave
SaveSave
SaveSave
SaveSave
SaveSave
SaveSave
SaveSaveSaveSaveSaveSave
SaveSave
SaveSave
SaveSave
SaveSave
SaveSave
SaveSave
SaveSave
SaveSave
SaveSave
SaveSaveSaveSave