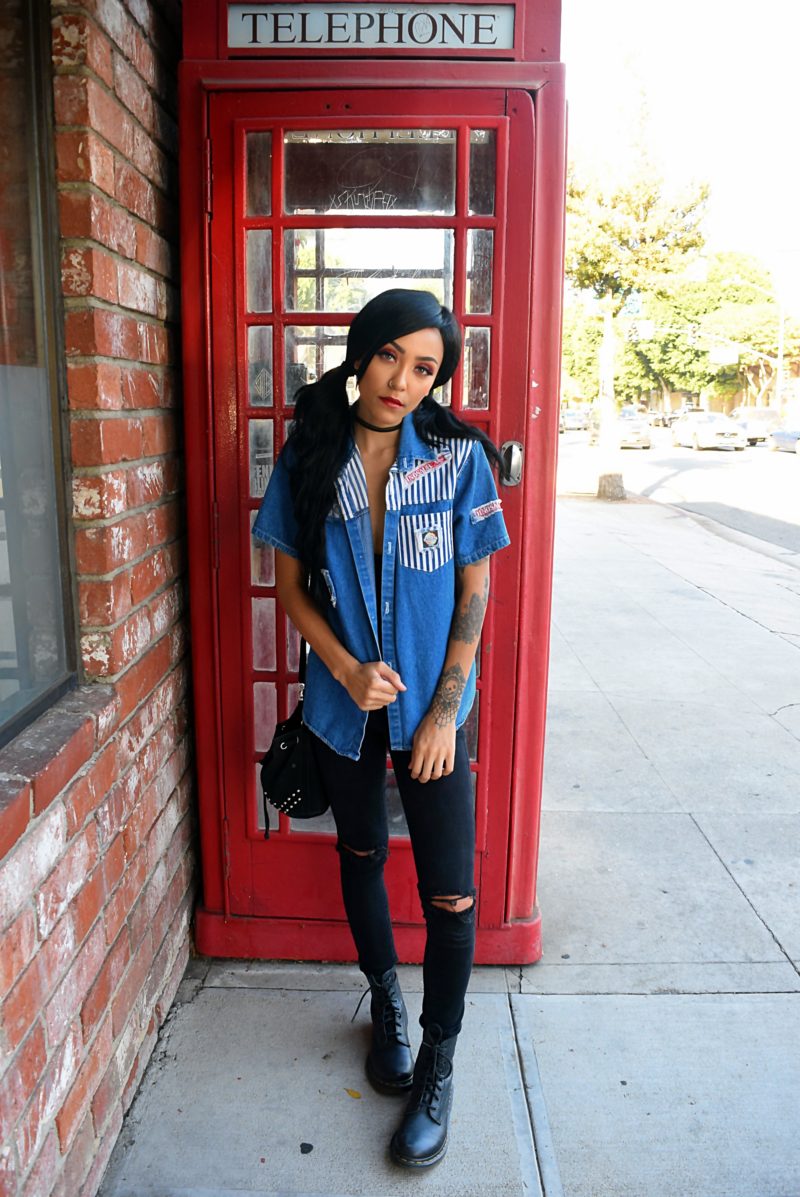 Blue denim Shirt – (Thrift) Here is something similar — > – Sloan Button Up Denim Shirt
Black Tank Top – H&M Short Jersey Camisole Top
Black Denim Jeans – Blue Age Women's Destroyed Ripped Distressed Skinny Jeans
Black Boots –  'Pascal Virgina'  Dr. Martens
Black Choker – Amazon Black Choker
Bag – (I can't remember) Here is something similar —> – Faux Patent Leather Bucket Bag
Today's look was inspired by finding the denim shirt I'm wearing and remembering where I bought it from. A freaking thrift store! It'd been ages since I'd gone to a thrift store, so I decided to wear the shirt and go shopping. I'm honestly shocked at how long I've lived in California and have yet to find a good thrift store. Whenever I moved to LA, I learned quickly that thrift store shopping is not..
… as easy as it is in Texas. From my experience, most of all of the 'thrift stores' in central LA are just stores selling things they've already found in thrift stores but at a higher price! So for example, let's say we decide to go thrift shopping on Melrose Avenue. There are tons of "vintage" stores on Melrose we could go to, but most of the stores stock perfectly conditioned high-waisted Levi's, rare graphic t-shirts, and basically anything that is trending. Sounds amazing right? No.. it's like $60 bucks for a pair of high-waisted shorts you could personally go find at GoodWill for $10. That was my first experience of thrift store shopping in LA, so I stayed away for quite sometime until I made it my mission today to branch out.
This denim shirt was probably a teachers Friday casual shirt because of the random patches it has, but I absolutely adore it. It has patches that say 'Dinosaur Diffusion' and 'Imagine Kids' and I'm not too sure what those patches are or mean, but if any of you know leave a comment below!
Of course, I can't stay away from the color black as it matches my heart and soul. I paired the denim shirt with a black ribbed camisole underneath and black high-waisted jeans with a pair of black boots. Casual looks are always fun to style because of how dressed up or down you can make the look which leads me into my next thought.
I've never been deeply passionate about the art of cosmetics if we're being honest here. Makeup for me was something I used originally to feel more confident in my skin and hide blemishes. Now that I'm mid 20's, do an intense cat-eye, and wear false eyelashes almost every day, its safe to say my interests have changed. Eyeshadow is truly an art form that I have yet to master but it can make a casual outfit come to life! Praise all the beauty gurus on YouTube for helping me figure out my process along this journey!  I've been wanting to do a red eyeshadow look for a while but couldn't convince myself to purchase a palette until I came across one in CVS pharmacy. This was my first attempt at doing an eyeshadow look and I'm actually kind of proud. I know it's not perfect or the best, but practice makes perfect! If you've made it this far in the blog post, maybe you can stick around for a few more posts to see if my eyeshadow skills improve.. Lol! I'm going to list below the products and share a few photos of the makeup look I styled with this outfit. Thanks for reading. See ya next time!
Sincerely,
Raven
C O S M E T I C S
Eyebrows – Anastasia Beverly Hills Dipbrow Pomade in Dark Brown
Foundation – Laura Mercier Flawless Fusion Utlra-Longwear Foundation in Maple
Lips –NYX Matte Lipstick in Alabama
Blush – E.L.F Compact Powder Blush Pallete
Eyeshadow – Revlon Eyes, Cheeks + Lips Pallete
Eyelashes – Ardell 207 Double Up Lashes
Eyeliner – MegaLiner Liquid Eyeliner
Concealer – NYX Gotcha Covered Concealer in Light
Setting Powder- Maybelline Fit Me Set + Smooth Powder
Highlight – Becca Shimering Skin Perfector Pressed Highlighter