Greensky Greenlake – Dead Meadow
Dead Meadow is Alive
Dead Meadow is a band that makes music under the genre of psychedelic rock. The music is inspired from blues, heavy metal, dark occult books, psychedelics, and more!  Dead Meadow was formed in 1998 and I discovered them in 2018… That's significant proof that if music is good, it'll never die.
The older I grow, the more I discover music I'd never thought I'd listen to. Dead Meadow is one of the first psych rock bands that turned me on to the genre. I didn't grow up with this type of music in my household but god damn, I'm happy as hell it's finally in my life. Dead Meadow's music may not be something that's played on the radio every hour but it'll definitely make you feel what you're listening to. The band's sound has remained genuine, authentic, and pure to its influences since its humble beginning. Dead Meadow will make you appreciate their sound in modern times because unfortunately not many people play it anymore.
Thanks Dead Meadow for keeping the sound alive.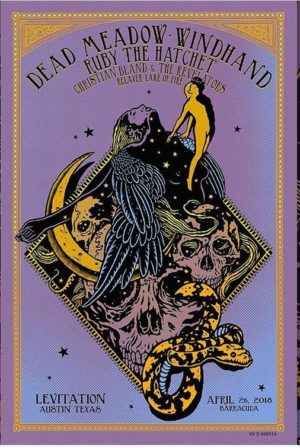 Live Music vs. Recorded Music
Having the opportunity to see Dead Meadow perform live at Levitation Fest 2018 was one of the greatest music experiences I've ever had! It felt as if I was in a garage or in someones backyard just listening to them jam. The music felt real and in this type of genre there's room for creative spins while performing live. A guitar or drum solo can easily be added during a set to showcase a musicians talent. That's one of my favorite aspects of music is hearing something being played live versus a recording. During a live set, you can see and hear passion while it's being played. Hearing Dead Meadow live should be shared, experienced, and rewatched as many times as possible.
SaveSave
SaveSave
SaveSave
SaveSave
SaveSave
SaveSave
SaveSave