Skin & Earth
What girl do you know that reads comics? If you happen to know one, she's probably a badass! In this digital era, it's not so common to read comic books. On top of the unique interest, being a girl who reads comics has always been rare.  Lights, one of my favorite musicians, has inspired many girls over the past decade to take up the interest of comics throughout her career. The singer has always expressed an influence in comics through her album artwork, music videos, and interviews. With Lights debuting her 4th studio album Skin & Earth, she's blessed us all by creating a comic that correlates with her music. I personally have never known a musician who created a concept album involving a comic book series. Lights is paving a new way of music expression and also inspiring more girls to read comics! This concept album was incredibly different and Lights fans were thrilled for this new medium of her art.
Lights Unlocked
The reason I'm sharing this on my blog is because I've finally finished the comic book series and it was amazing! This comic book series gave a new perspective to Lights' personality and creativity. I've watched a few interviews of her talk about the album, the comic, and how its fictional. However, I can't help but think some of the story is true and has been inspired by personal events in her life. For example, the main character is involved with another woman which came out of left field.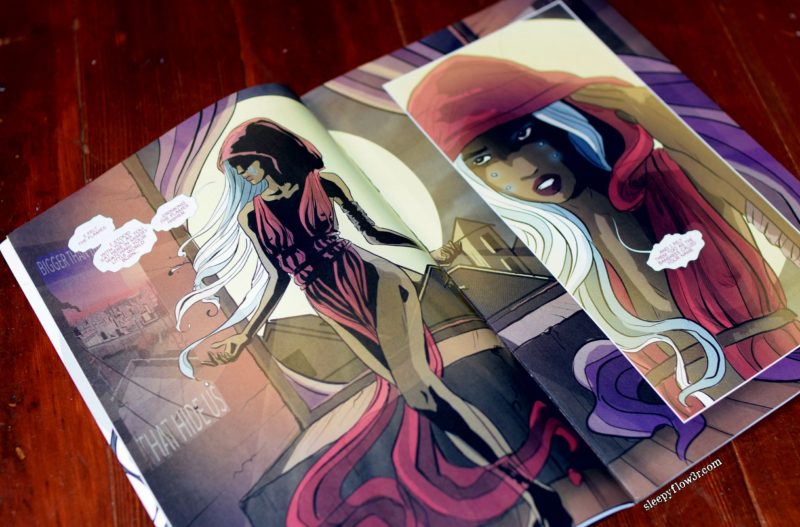 After the comic released Lights mentioned in an interview "If I met the right girl, I could easily fall in love". Not that it's a huge surprise that she's openly bisexual, but she's never personally shared that with fans. With every album she produces, its like we get to unlock little parts of her soul. It's great to understand and connect with an artist that makes music you can easily associate with. This comic book made me personally feel as if I got to know her on a deeper level.
Music & Comics
Before I was able to get my hands on the comics, I listened to the music. The song "Giants" was released and I was skeptical about the new album. It was hard to associate with the song because I didn't grasp an understanding behind the lyrics. The next song she released was "Skydiving" and my hope was quickly restored at least in the musical aspect of the album. Lights also gave hints to what the comics were about in music videos but I still had no idea of the meaning behind the songs. After reading the comic book series, everything made sense! My recommendation is to listen to the album and then read the comics. The story of the comic series is truly inspiring and has an amazing lesson overall.
I won't spoil the story for you,
but I will mention some vague commentary
 to look out for while reading!

Issue 1 – Priest looks very similar to someone close to Lights.. HMM..
Issue 2– My heart breaks at the end of this issue. 🙁
Issue 3– I was screaming all through out this issue. It's my favorite of the series! I was shook!
Issue 4– Pay attention to the illustration & detail here!!!
Issue 5– My thoughts.. "What the fuck is about to happen???" I NEED ISSUE 6 RIGHT NOW!!!
Issue 6– Lengthiest of all issues, lots of dialogue, amazing illustrations.. everything makes sense. Closure.
Giants – Official Music Video