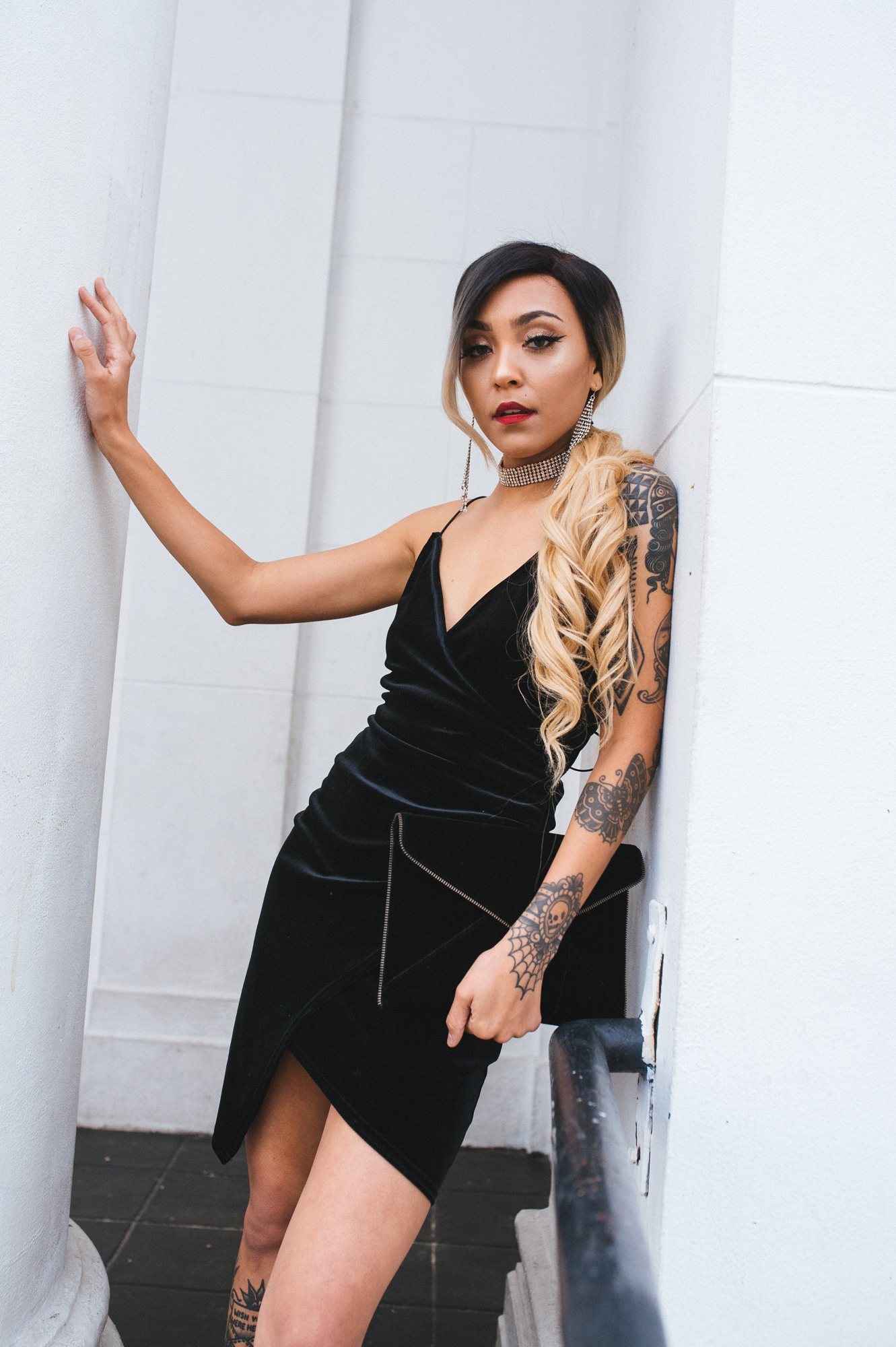 Dress – Black Velvet Dress Tigermist
Purse – Black Textured Leo Clutch x Rebecca Minkoff
Shoes – Black Strappy Heels
Jewelry – Eden Sky
Hopeless Romantic
Valentine's Day is around the corner and as much as many people can't stand capitalist holidays, I have to say it's one of my favorites! The reason it's one of my ultimate faves is because I'm quite the hopeless romantic. I love giving and recieving love. Whenever I was a young girl, my dad would always be sure to gift my sisters and I Valentine's Day presents. It was never anything over dramatic or too extravagant but he made sure that we all had a present. He never explained why, but I'd come home from school and there'd be an assorted chocolate box and flowers waiting for me on my bed. I didn't grow to relate Valentine's Day with feelings of loneliness and dread like some do because of him.
Anti Valentine's Day
In fact, I believe that the trend of Anti Valentine's day supporters has become increasingly popular and I find it incredibly sad. If you don't like to receive love, you're lying to yourself! I believe people grow bitter if not shown or given love consistently throughout their lives. I've been there.. I know. However, I'm not saying everyone should LOVE this holiday but instead we should view it as a national day to love ourselves and one another. At the age of 16, I remember promising myself each year I would do something special but for me! I started a tradition where I would get all dolled up and go out for dinner either with friends or just myself. To this day at 25, I still do it every year. Self love is not something you can have without practicing it. Take the time for yourself and love a little! Celebrate your successes of making it this far in life regardless of what's currently going wrong. You are experiencing. You are living. It's time to enjoy it!
This outfit is something I'd definitely wear while going out on Valentine's Day! I hope it gives someone inspiration to do something nice for themselves or for someone else.
With love,
Raven